Planning your Company's Holiday Party?
Sunday, November 26, 2018
'Tis the season….the season for parties galore! There's nothing like a great holiday party, but if you're in HR, you may be the one planning your  company's holiday party. How is it that those of us who are telling people not to drink at work functions all year long are now planning the biggest work party of the year?! Well, whether you're planning the whole thing or just "policing" it, it seems the Company Holiday Party is never quite as enjoyable for the HR crew.  But never fear! You don't have to hate the whole thing – we've worked up some tips to make the party less of a liability for your company (and therefore less of a headache for you) and maybe even more fun for your employees, too!
Find Your Date
Before finalizing the date of your party, make sure you aren't scheduling it on holiday! Remember, you want your holiday party to be inclusive, and if you schedule it during Chanukkah or Kwanzaa you could be excluding members of your staff who would otherwise like to attend. Holidays this December include:
Chanukkah from December 12 through January 1
Winter Solstice December 21
Kwanzaa from December 26 through January 1
Christmas Eve December 24
Christmas Day December 25
Boxing Day December 26
Epiphany January 6
You know to avoid New Year's Eve and New Year's Day as well!
Contain that Holiday Spirit
In our perfect HR world, there's no alcohol at any company event. Realistically,  however, there will be *some* alcohol at the holiday party. And realistically, I don't have to tell you that alcohol is related to A LOT of HR complaints! So how do you strike the balance here? A couple ways:
Hire a caterer/bartender. A professional bartender can cut the alcohol supply to someone who is visibly intoxicated without you being the "bad guy." Be sure to talk with the staff for the evening to make sure they know this is a company party and they should err on the side of caution in this department!
Give employees a set number of drink tickets…after that, drinks are on their dime! Employees are less likely to drink too much if they have to purchase them.
Bring in Outside Help
A hired bartender not only (ironically) helps you cut the drinking down, but holding the event itself outside the office cuts your Company's liability as well. Bringing in a caterer, who you've requested appetizers from, keeps food off your "liability plate" and makes it easy to ensure there are munchies available prior to the main course being served. And if you aren't serving a full meal, at least spring for some heavy appetizers because, you know what I'm going to say here, having food in your stomach slows down your alcohol absorption! (See how it all comes back to the alcohol?)
Accommodate Everyone
I don't just mean in an HR accommodation way, because you should be doing that already. But if you're serving alcohol, be sure you're providing your employees a safe way to get home:
Encourage carpools
Offer a (valuable!) prize to designated drivers
Hold the event at a hotel and get a discounted block of rooms for people to stay the night (or hold the party elsewhere but find a hotel nearby!)
Hire a shuttle bus if you have a concentration of employees who all live near each other
Permit employees to expense a taxi, Uber, Lyft, bus, train tickets or other fares to and from the party
Decorations
Don't make this into a Christmas party, and therefore a discriminatory party, by using Santa decor! Winter-themed decorations apply to everyone and don't leave anyone out. Just leave one thing out: the mistletoe. Don't even think about it!
Prepare Your Staff
Send a quick reminder out before the party to remind employees of behavior expectations, dress code, and other pertinent details. (Can they bring a guest under the age of 21? Under 18? )
+1
Speaking of guests, be sure employees can bring a +1. Who the guest is shouldn't matter; the guest is of the employee's choosing. However, if your party is being held at a bar, then no one under 21 will be able to enter. (On that note, your employees should all be over 21 if you're holding the party at a bar!) I've seen countless employees elect to have a spouse stay home with younger kids, and have the employee bring an older (16 or older) child as a guest. If you don't want anyone under 18 at the party, you'll need to specify that beforehand.  On the other hand, if it's a kid-friendly event, be sure everyone knows it! (This will cut down in the alcohol consumption in a big way, also!)
Most employees will bring a spouse or significant other, which is good. One of the rules of thumb to determine if you're harassing someone is, "would you be comfortable doing/saying that in front of your spouse?" Granted, everyone's boundaries are a little different, but many people will identify with this rule. And that, my friends, can keep your complaints after the party to a minimum. The presence of spouses or significant others encourages good behavior!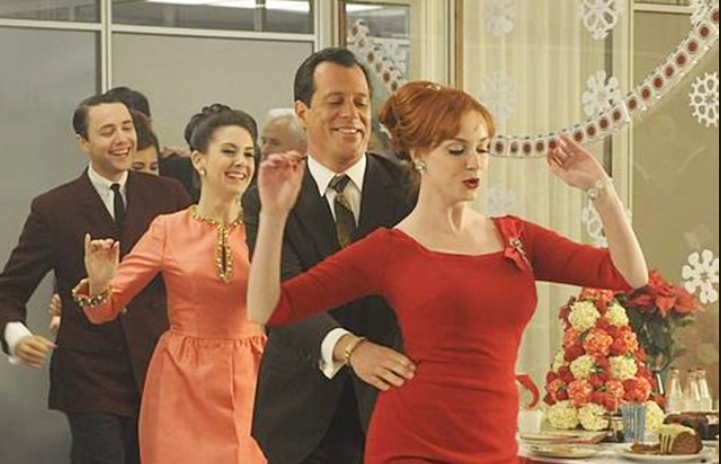 Show Me the Money
I do not recommend making your holiday party a mandatory event. However, if you do, remember that non-exempt employees must be paid for their time at the party. Overtime rules still apply! You do not have to pay an employee to attend the party if it is an optional event.
Super-Sleuths
Some employees, you know which ones, will be more than happy to play "police" and keep an eye on what's happening at the party. You can't be everywhere at once, and frankly if people are up to no good, they'll avoid you anyway! If anyone reports an incident to you, be sure they know it's up to the HR team to investigate the situation and not them.  Don't pressure employees into policing the party! The goal is for everyone to enjoy themselves, not feel pressured to "tattletale" on their coworkers.
Investigate!
And finally, should anyone report anything to you at all, investigate it right away. Don't chalk it up to "holiday party shenanigans." You need to take anything that is reported to you from the party just as seriously as you would take something that happens on a Wednesday afternoon in a conference room.
Remember to have fun at this party too! You should also celebrate your hard work during the year, just do it wisely!